The title of this blog post sounds like the name of a children's book, doesn't it? A little? Maybe not...anyway...
We recently had a visit from my dad
(Grandpa Toad)
and stepmom
(Grammy A.K.A. Super Kimmie)
. Super Kimmie stayed with us for almost a month when G-Man was born and then turned around and came right back with dad for G-Man's blessing.
(Which ended up being three weeks after he was born. Which was too soon. It was a rough weekend for me. But that's another story for another day.)
This was their first visit back since the blessing. We had a great time the first part of the week just hanging out at the house. Not much picture taking went on. What did go on that was amazing? Dad built new shelves for our office. And he fixed up the shelves in our utility closet, and made a little shelf on the bottom of the closet so our vacuum could go in there.
(I'll post some pictures when I finally paint the office and reorganize the utility closet.)
And I got new tools for my birthday that Dad used to build the shelves. Sure, my birthday isn't until May, but birthday presents are always welcome! :)
Near the end of their week here, we decided to go into Boston. Dad wanted to find this sign and get his picture taken next to it: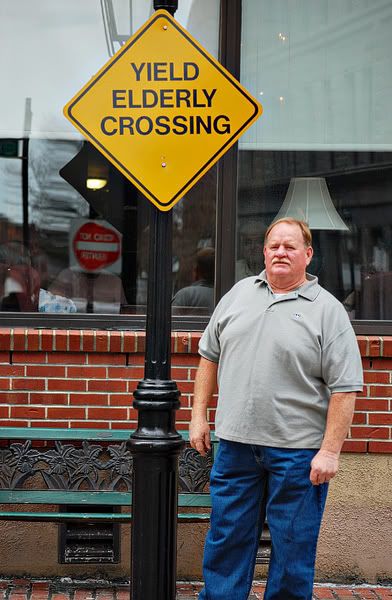 I guess when they were here for G-Man's blessing, he had his picture taken by the same sign. I didn't realize when I was taking the picture, but the building behind him is a retirement home. If you look closely to the left of Dad's face, there is an old man kind of glaring at Dad. Or maybe he's glaring at me.
Then we went to the New England Aquarium. We had such a great time
when Matt and Emily came to visit
, we thought we'd go back. It's tough finding activities in Boston in the winter. Spring and fall are much more exciting times to visit the city. Summer can be oppressive, but at least you can get out in the morning and do things outside.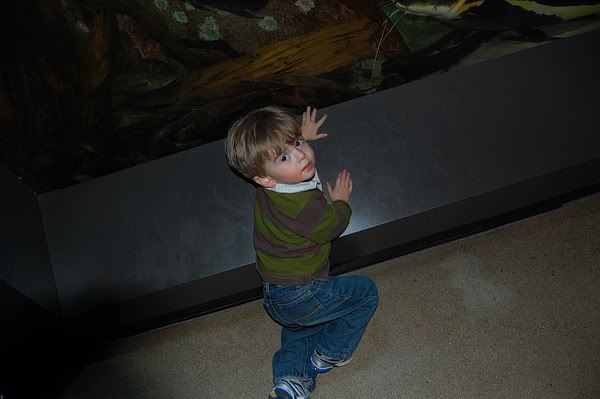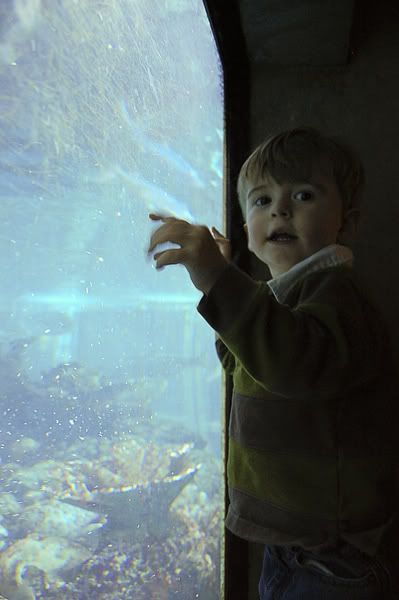 G-Man had a great time. He spent most of his time trying to climb things, but he enjoyed the fish too.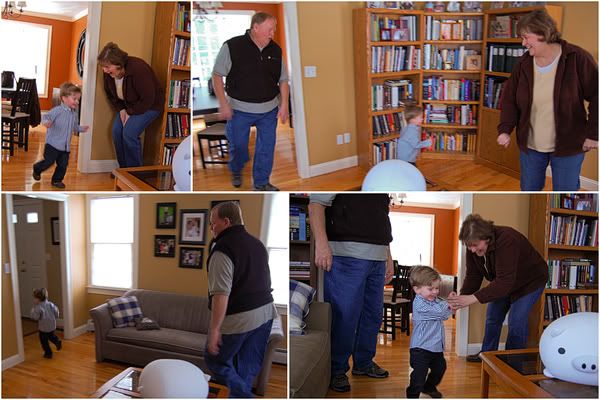 The part of the week that wasn't spent building shelves was spent with G-Man being chased by and chasing Grandpa and Grammy around the house. G-Man yells "RUN" and then he takes off running around the front-room-front-hall-kitchen-dining-room circle in our house. I've tried to take up the slack since they left. It's pretty exhausting.

G-Man also loves this stuffed animal that Diggity bought for Amanda in Japan. She couldn't fit it in her boxes when she left Boston, so she left it at our house. G-Man found it in our guest room a while ago and really loves to play with it. Before this chasing session began, we heard something rolling down the stairs. We thought it was G-Man, but it was the pig. They all played with it for a long time.
(Sorry, Amanda. I'll hide it better.)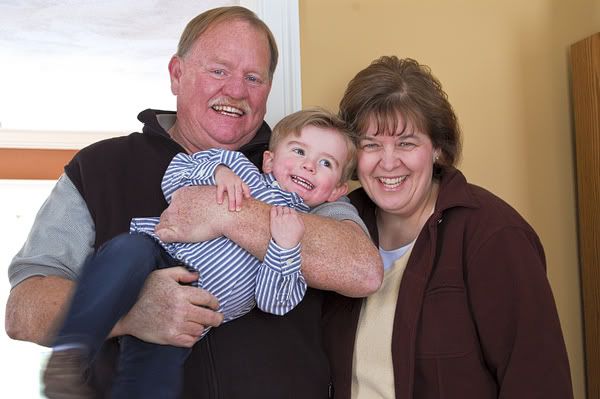 Thanks for coming, you guys! We miss you!