Just because I was curious, I started looking through my pictures to see if I had any pictures of G-Man from a year ago at around this time.
It was my lucky day!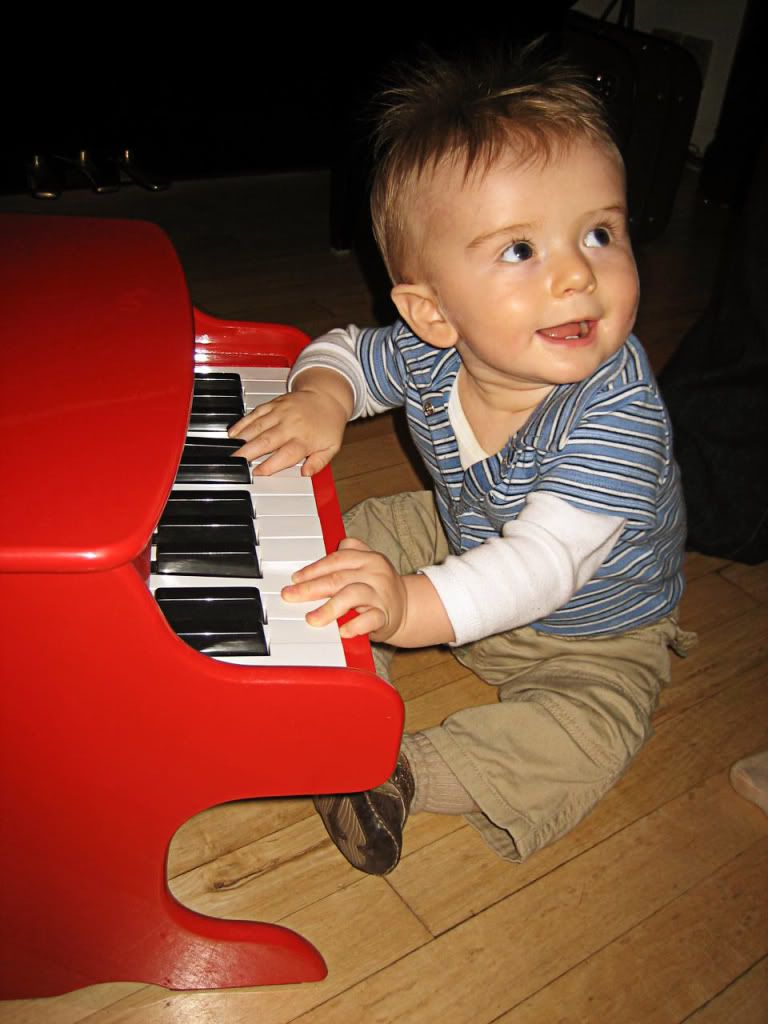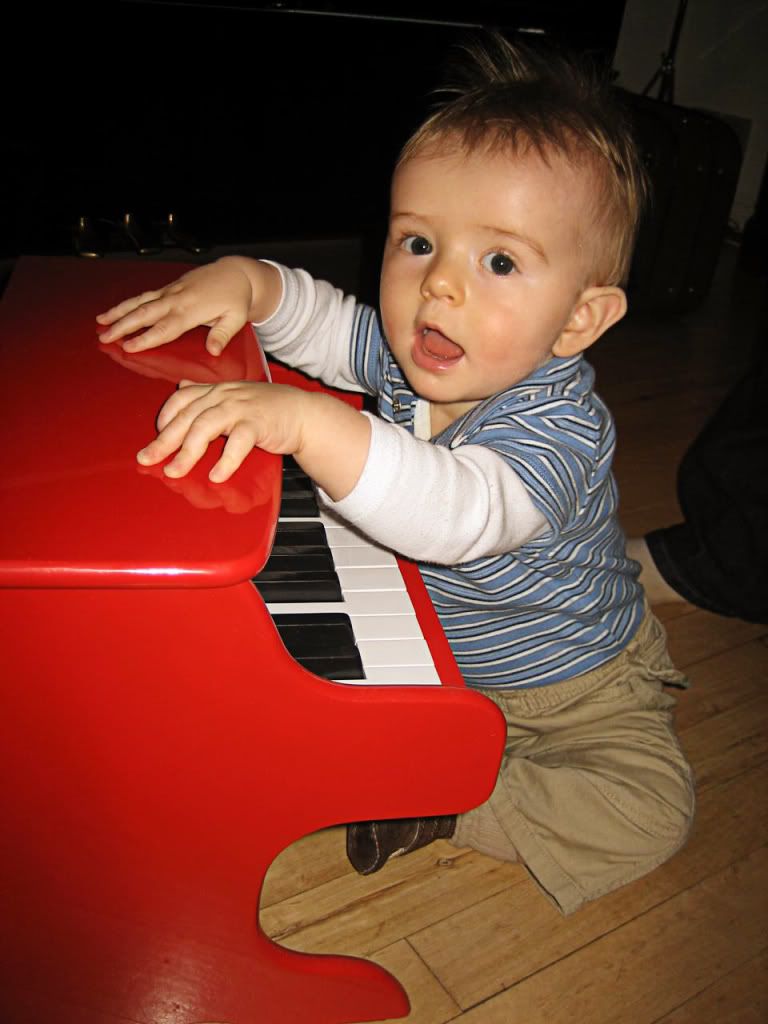 I posted one of these piano pictures
last year
, but offered no context for where or when they were taken. I think I'm ready to talk about it now.
We went to NYC last year on Veterans' Day weekend. We went because we had tickets to see
Young Frankenstein
. We purchased these tickets at the beginning of the summer. We were excited to see it.
Those of you who live in NYC may remember that weekend was also the weekend the stage hands went on strike. All but four shows were dark that weekend - one of the shows that was playing was "Young Frankenstein," so we were very happy we still had the chance to see this show.
We made arrangements for my superstar friend
Karyn
to watch the G-Man at our hotel and then jumped on the train Saturday morning and had a lovely ride down to the city.
We checked into our hotel and had a little time to visit our cousins, the M. Family. We wanted to meet their new son H. G-Man and H. got to be friends and played for a little while. The pictures that included in this post are of G-Man playing H.'s piano.
(H.'s mom is an OUTSTANDING pianist, so naturally H. needed his own piano.)
After a lovely visit, we went back to the hotel to meet Karyn and set off on our super awesome date.
As we came out of the subway and walked to the theater, the first thing we noticed was the huge standby line. Because most of the shows were dark due to the strike, there were lines of people hoping for tickets at the few shows that were open. I remember we talked about how sad it was - there were people all over the city who had waited months to see shows like
Wicked
and
Jersey Boys
and came to town just for the show, only to miss out on seeing it. We were grateful to be able to see our show.
We walked up to the usher and handed him our tickets. The usher scanned them...
*BUZZ*
He scanned them again.
*BUZZ*
Once more...
*BUZZ*
He looked at the tickets.
"I'm sorry, these tickets were for the matinee. They won't work. This is the 8:00 p.m. show."
I felt like someone had punched me in the stomach. Then, I felt sick. Then, I was sad.
We went to the box office to plead our case, but even without the gigantic line of people outside waiting for standby tickets, it would have been useless. Someone from the matinee standby line already saw the show using our seats.
*sigh*
So, we went and got ice cream at Coldstone and went back to the hotel.
(I figured Karyn wasn't going to let us pay her, I didn't want to completely waste her night. Also, I didn't feel like doing much.)
And thus ended the most. expensive. date. ever.
I felt really, really badly about missing the show. You see, I had checked the tickets. Looked at them several times to confirm the date. Not once did I look at the show time. We never get matinee tickets. To this day, I still don't know how we ended up with matinee tickets.
Thank you for listening. And make sure to check your tickets.