I love to bake. I also love to cook, but I really love baking.
I love to read cooking and baking blogs. I'm really in awe of people who can brilliantly tweak and make up delicious recipes. (Especially
this blog
. She rules.)
I am not one of those people.
I do, however, feel I can recognize what will be a delicious recipe when I read it. So, instead of being a recipe creator, you can count on me for confirmation of recipe deliciousness.
Here is my first confirmation of recipe deliciousness - Pudding Cookies.
I found the recipe on my friend Heidi's blog.
(I want to be like Heidi when I grow up. She's amazing.)
I knew just because Heidi liked the cookies that they would be good, but I can confirm that they are delicious.
Pudding Cookies
1 cup brown sugar
1/2 cup sugar
1 cup butter
1 package instant pudding
(you can use any flavor to change the taste of the cookies. On Heidi's recommendation, I used chocolate)
2 eggs
1 tsp vanilla
2 1/4 cups flour
1 tsp baking soda
2 cups of chocolate chips or 1 package of peanut butter chips
(Again, you can substitute whatever you want in terms of chips. I used semi-sweet.)
Mix the sugars and butter until creamy. Add the pudding, eggs and vanilla and cream again. Add the flour and baking soda until combined. Add the chips. Spoon onto parchment paper lined cookie sheet.
(I used my Silpat.)
Bake at 375 degrees for 8-10 minutes.

(Mine took 11-12 minutes. I have a gas oven. I love gas for cooking, but I'm finding that it is tough for baking. The heat isn't constant. Or maybe I'm making that up. But it seems like I have to raise the heat five degrees or cook a couple minutes longer when I bake.)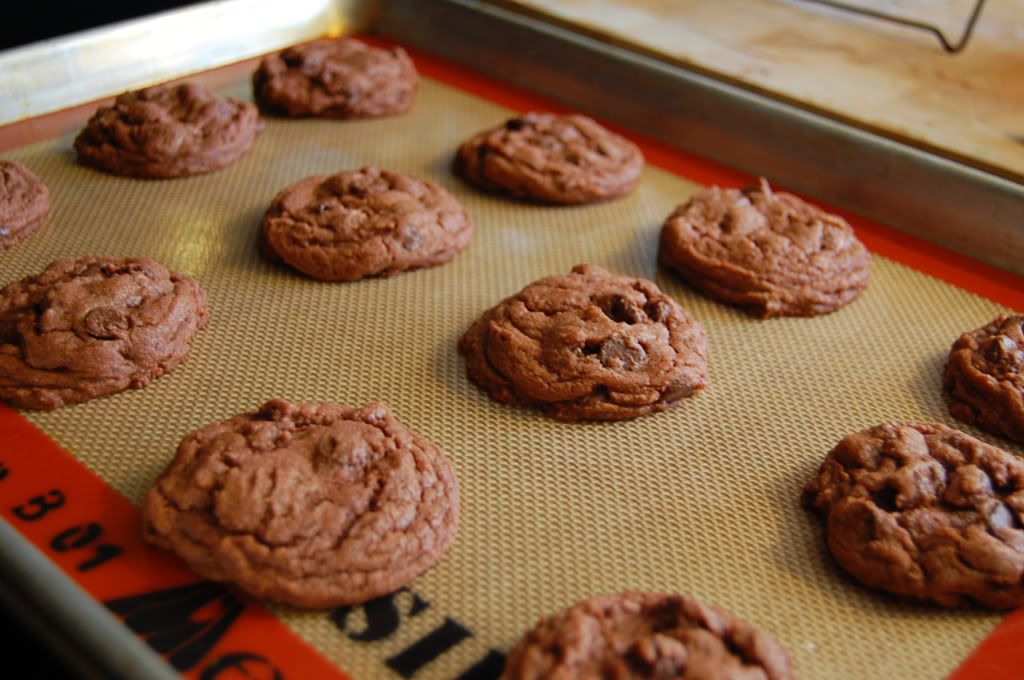 They're delicious. I gave the entire batch away THAT DAY. Couldn't have them in the house. It's my new solution - I can bake whatever I want, but I have to give the whole batch away.
This is G-Man wishing he could have a cookie for breakfast: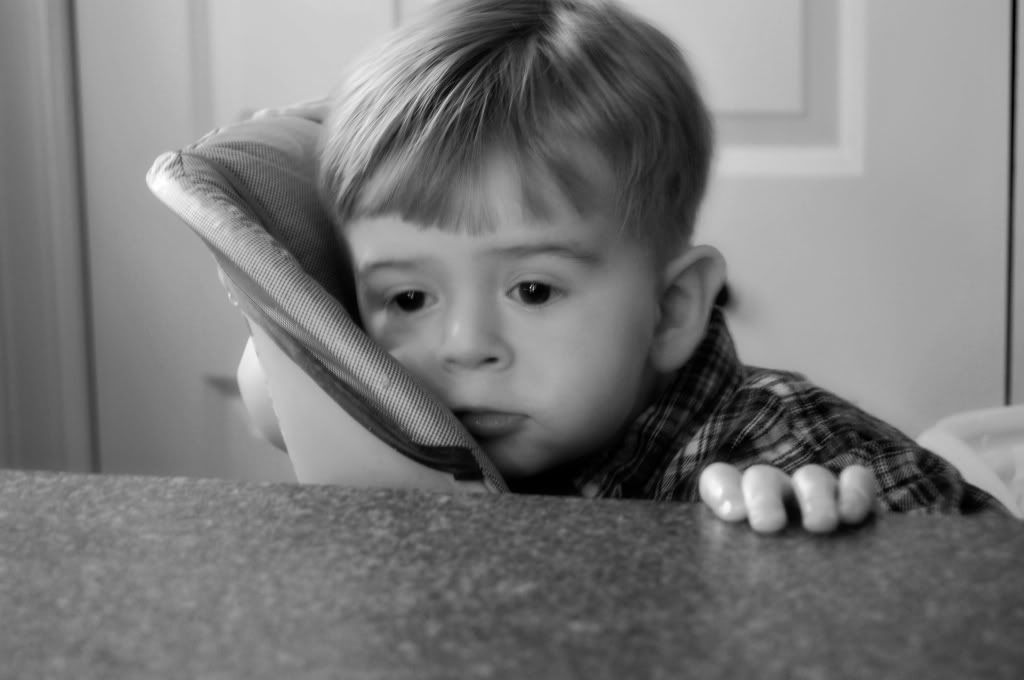 This is G-Man dragging his chair around the house. It doesn't have anything to do with the cookies. I just thought it was a cute thing he started doing this week.