Many of you out there have met my wonderful car, Miguel. His full name is Miguel Manuel Santa Fe.
(We had a naming contest among my friends when I purchased him. We wanted a name that fit his personality and heritage as a Santa Fe. *grin*)
My first car purchase as an adult, he and I have had many wonderful adventures together. Road trips, daily rides to school, driving members of the 2002
Savior of the World
cast to the Conference Center...I'm quite attached to him.
As you might imagine, when
Diggity
suggested at the beginning of this year
(after another large repair bill from Miguel's yearly inspection)
that we should replace him, I balked. I was not keen to replace him. I did not want a car payment. I was fine, thank you. I may have refused to discuss the matter whenever Diggity brought it up.
Then, President Obama announced the
CARS
program.
And we found out that Miguel qualified as a "clunker."
(Don't worry. I didn't tell Miguel. I didn't want to hurt his feelings with a label like that.)
And then we found out the CARS program was ending soon. So we looked. And we found a new car. And the new car arrived a couple of days ago, and today was the day we had to turn Miguel in so he could be crushed into sheet metal.
Poor Miguel.
I took a few pictures of Miguel in our driveway before we took him to the dealership this afternoon.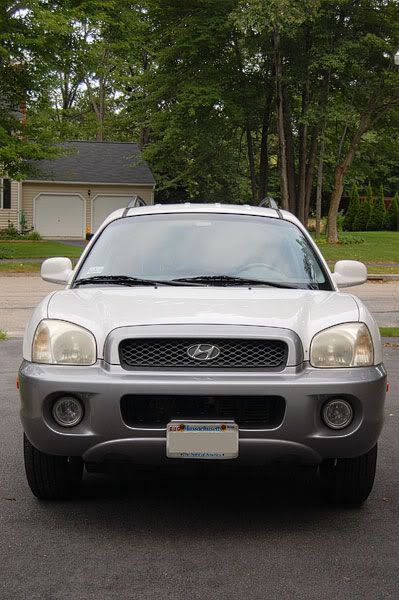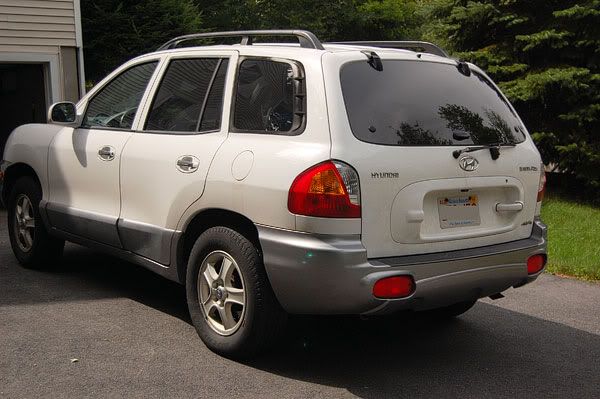 I told G-Man we were taking mommy's car bye-bye and bringing home a new one, and he gave Miguel a hug. Awwwww...
We brought home a Subaru Forester. My family drove Subarus until we got a minivan when I was in junior high. I like them, and I'm pretty excited. I was sad to see Miguel go, but I must admit, when the salesman was showing me the car
(Auxiliary plug for my iPod! Functioning lighter plugs so I can actually charge my phone! A mute button for the stereo ON my steering wheel! And MORE!)
, I got more and more excited to have a new car.
Here's our new car
(no name yet)
: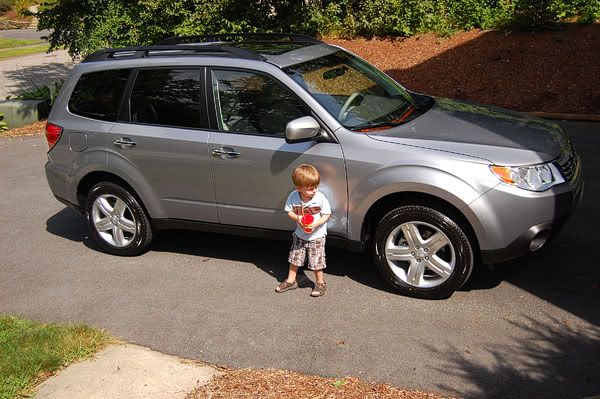 Thanks, honey. I'm glad you insisted. And you even found a way to get me the seat warmers. I love you.