I've neglected this blog a bit when it comes to reporting on the family. I admit it. But I'm repenting.
To be honest, we haven't had any huge events going on around here. Diggity isn't traveling much right now, courtesy of the economic slowdown. G-Man and I are hanging out and reading books and playing. He's learned some cool new stuff. For starters, he can say "cool." Cracks Diggity and I up every time. We don't even know where he learned the word. He's in that stage right now where we try to get him to say funny stuff. Endless entertainment. He also learned how to kick a ball, so that is the game of the moment. He stands by our front door and kicks the ball into the kitchen and you have to stand in the kitchen and kick the ball back. It's great fun.
We have had a few picture events this month, so I'll catch up on those too. First, we had a 50 degree day about a week and a half ago. Normally, that's not so noteworthy. But, with the winter we have had, it was fabulous to be outside and have it be warm. I told G-Man we were going outside and started to put his vest on. He was very confused and kept pointing to his parka. Once we got outside, he forgot all about his parka.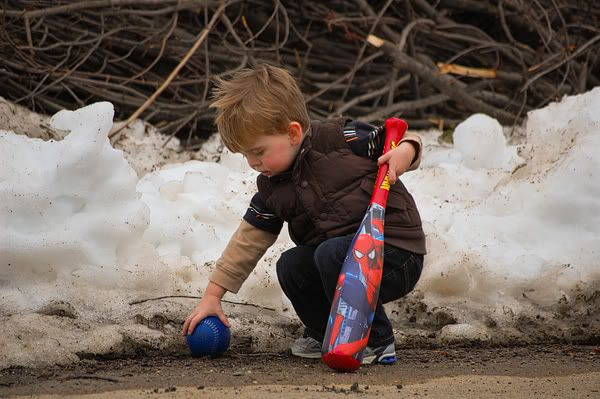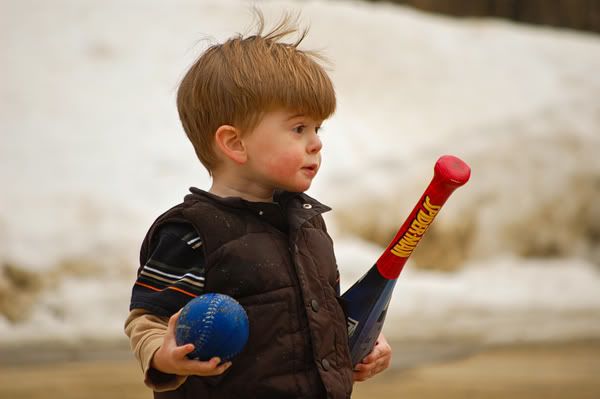 The snow is gross right now. And because it was so warm, there were lots of puddles. Which G-Man kept kicking/hitting his ball into. He wants my help in the next two pictures. I did help. I just had to take some pictures of the cute, angry face first.


And I realize he looks like a ragamuffin with that hair. And that was days ago. He got his hair cut today.


We had a wonderful Valentine's day. I found a box of our favorite sugar cookies in the sugar-free variety and sent them to Diggity at work, and he got some books from my Amazon list and a photography magazine. He also got me a beautiful flower arrangement with Gerber daisies - my favorite - and we went to breakfast at a local diner. We spent the evening celebrating as a family as well. We went to hang out with the L. family and a few of our other friends came by too. We had Moe's queso and yummy treats and learned a new card game. Good, good times.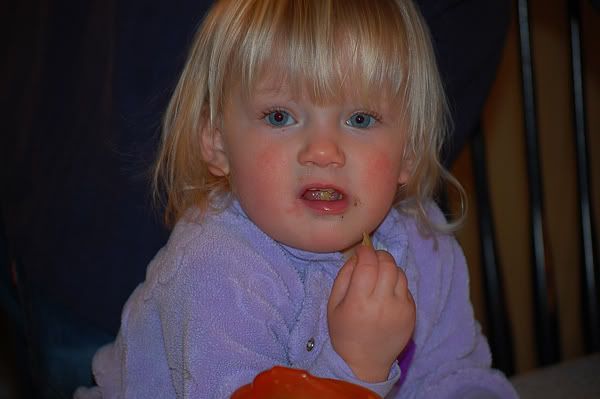 Doesn't he look excited? He was actually pretty thrilled to be sitting up in this chair. He always tries to climb into it when we got to their house.

Next up....a visit from Super Kimmie and Dad.