Our assignment this week has to do with backlight. I haven't shot the actual assignment yet - I do that tomorrow. But I went outside with G-Man on Wednesday afternoon and tried to get a little bit of practice.
In order to get backlight in a photo, the sun has to be behind or slightly to the side of your subject. Backlight can add a lot of dimension to a photo. See the light on his hair? Cool, eh?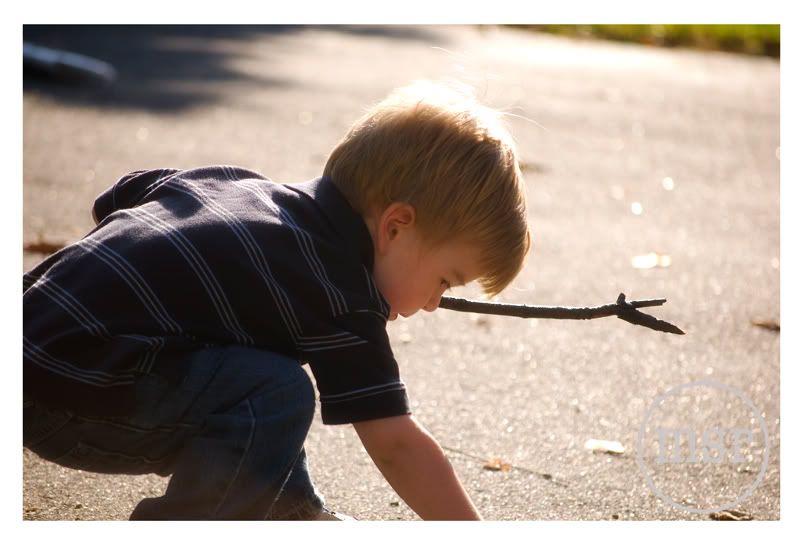 This next shot shows what happens when you get too much backlight. The photo isn't completely "blown out" with highlights, but there is a lot of light spilling onto the image. That spilling light is called flare.
Flare effects are actually really popular depending on the photo. Often, photographers try to get flare as part of the lighting they are trying to achieve. It all depends on what you want the photo to look like. I'm glad I ended up with flare in this next shot because G-Man was running from Paul the Cat and it made the whole shot a little fuzzy and warm and I got to use the P.O.S. Lens Action from
Totally Rad Actions
. The action only works well on certain shots and I don't get to use very much. It's a fun one.
Now, in this shot, the flare is gone. The backlight is still there (it's a really hard edge light), but the flare is gone. I learned a nifty trick from my class to get rid of it. Do you want to know what I did?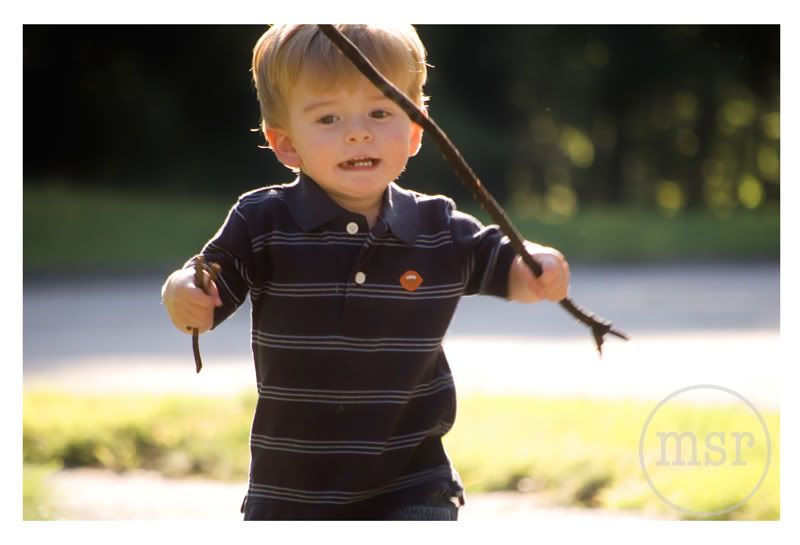 All I had to do to get rid of the flare was shade the end of the lens with my hand. I've seen people do this when they take pictures, but I didn't know why they were doing it, so I thought it was silly. I already had my
lens hood
on the lens to keep sun from hitting the lens, but as you can see, the hood wasn't completely doing the job. So, I shaded the end of the lens with my hand. I was able to get off a few shots with and without shading and miraculously ended up with two of G-Man in almost the same pose so you can really see the difference: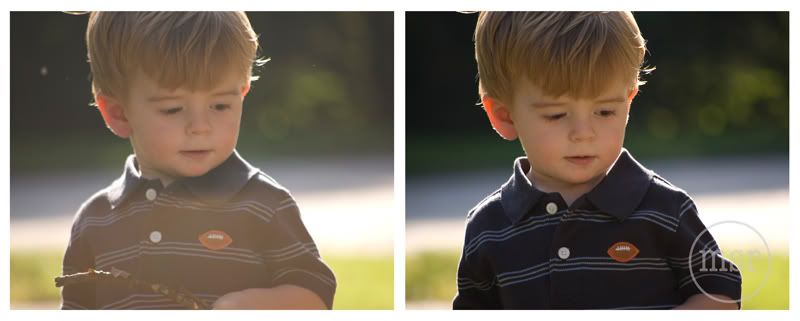 The left side picture is not shaded. The right side picture is shaded.


I know. I'm a geek. But I thought it was cool and wanted to share. I'm starting up a blog devoted to photography soon and I'll start putting posts like this over there...

And for those of you who have been asking me, the website where I'm taking my portrait class is called The Picture Perfect School of Photography. My class is called Portraits Unplugged. They have a lot of classes and a new batch of classes start on October 10.